Het Aanbod
Welke muziek vind je deze week onder de wekelijkse aankondiging ""Draaitafel" bespreekweek", wat zijn de overblijvers na selectie van het aanbod?
Er ligt veel mooie muziek op de draaitafel en ook veel soorten muziek waar ik graag naar luister. Een aantal goede zangers, met name Douglas Dare (Aforger) valt op. Blues en rock bandjes, dark ambient, ProtoU (Khmaoch) kan ik je zeer aanraden. En ook opwindende elektronische muziek zoals Steve Moore (Cub).
Gelukkig ook de moeilijker te plaatsen en daardoor zeer interessante muziek van Nicolas Jaar (Sirens) en Vanishing Twin (Choose Your Own Adventure). Niet altijd even makkelijk in het gehoor liggend, maar daardoor wel heel boeiende muziek.
Inmiddels begin ik ook heel enthousiast te worden over de "The Early Years 1965-1972" box-set van Pink Floyd. Met name de al lang gekoesterde opnames uit het Concertgebouw in Amsterdam:
Part 1: 'The Man', Amsterdam, 17 September 1969

Part 2: 'The Journey', Amsterdam, 17 September 1969

Deze klinken nu prachtig. Dit is heel mooi nabewerkt en op een hele fijne geluidskwaliteit gebracht. Knap werk! Het is nog meer bijzonder geworden. 1969!!!
Een andere liefde is de vroege muziek van Earth & Fire. Waar ik kan, verkondig ik dat dit heel bijzondere muziek is op een heel hoog artistiek niveau. Dramatisch genoeg is het enige wat in de media terecht komt een paar oude video opnames waar de zang van Jerney Kaagman niet zo schittert als op de studio opnames. Luister en bewonder "Song Of The Marching Children" en "Gate To Infinity" en alles wat voor 1980 is uitgebracht.
Gelukkig is het nieuws nu dat er een box-set is uitgebracht onder de naam "Memories", met in mijn ogen minimaal 6 top albums, aangevuld met alle singles en speciaaltjes. Heb je ze nog niet als CD in de kast staan dan is dit een ultieme kans (en niet duur).
De Opvaller(s)
Maar welke muziek heeft zich de afgelopen week dan echt onderscheiden en gemanifesteerd als "Hé, dat is echt lekker om naar te luisteren?".
De grootste bewondering gaat deze week uit naar het album "Float" wat al in 2013 is uitgebracht. Michel Banabila is nota bene een Nederlander, maar toch aan mijn aandacht ontsnapt.
Niet helemaal vreemd als je op de wiki leest waar hij tot nu toe mee bezig is geweest, maar toch wel een Edison winnaar, 'Voiznoiz III - urban jazz scapes' (2003). Ik zal toen alleen de naam Eric Vloeimans geregistreerd hebben, onterecht dus. Heerlijk om weer eens iets van deze klasse te ontdekken. Er lijkt weer een wereld vol met mooie muziek voor me open te gaan. Kijk maar eens naar de zeer indrukwekkende lijst van albums op Discogs!!! Wow, dat ik dat nu pas ontdek!
Een combinatie van elektronische muziek en jazz dus. De jazz kan ik vooral terug leiden tot de fantastische trompet klanken. Misschien dat de voor mij vrij oosters aandoende muziek bij de Discogs classificatie ook onder de jazz noemer vallen?
De "oosterse" instrumenten, welke dat dan ook moge zijn, vullen dit album met prachtige klanken en melodieën. Klank en melodie zou, als dat niet voor alle muziek zou opgaan, toch een samenvatting kunnen zijn omdat het hele album zo'n super mooi klankbeeld heeft. Het is echt een feest naar te luisteren.
Het eerste nummer "Lapidarium" laat alles wat de CD is al horen. Een super mooie intro met "fladderende" viool, overgaand in piano, ondertussen meedrijvend op de weelderige golven van een bas. De piano wordt overgenomen door een sitar (?) en het nummer eindigt met een meer elektronische/elektrische gitaar boventoon. Heel mooi! En dat is nog maar het eerste nummer.
Het is misschien een besmette typering, maar dit zou ik "music for the millions" noemen. Het heeft een soort universele schoonheid in zich.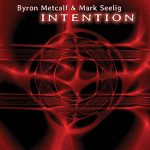 Byron Metcalf & Mark Seelig - Intention:
Nog zo'n "oudje". Bij TV programma's over indianen of als je het voorrecht hebt gehad om tijd in indianen gebieden door te brengen ontstaat bij ons altijd de behoefte om de muziek daarvan te kopen. Dan kom je al snel in de meditatie sferen terecht en valt de muziek uiteindelijk tegen.
We hebben zelf al een David & Steve Gordon -Sacred Earth Drums gescoord bij een bezoek aan Death Valley. Gelukkig een CD die wel aan de verwachtingen voldoet. Deze van Byron Metcalf & Mark Seelig mag er ook zijn. Het fijne is dat het lange tot zeer lange nummers zijn, iets wat gewoon bij deze muziek hoort.
Daarnaast klinkt het een soort van authentiek, voor zover dat mogelijk is. Fijn drumwerk, samen met keel en didgeridoo-achtige klanken, af en toe aangevuld met fluit. Niet direct "ïndianen-muziek", maar het element van "oude stammen" is hier heel erg aanwezig en consequent doorgevoerd.
Dit beschrijven ze zelf veel mooier op Bandcamp. Van mij de tip dat dit in mijn ogen ook de lading dekt. Voor wie er naar op zoek was.